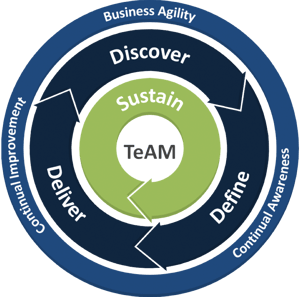 Digital Business Disruption, which is the use of digital technologies and business models to drive organizational change, is rapidly transforming established business models and breaking down barriers across the Entertainment, Gaming and Hospitality industry.
The Technologent Architecture Method (TeAM) offers a fast, simple and practical method to create success in today's world of business disruption. TeAM expedites delivery of real insights to help guide you with informed, outcome-based decisions as you embark on your transformational journey. Executable recommendations will provide balance between immediate impact and long-term, value-driven technology investment strategy.
Digital Business Disruption will also require industry business rules, business processes and policies to shift from assumptions that delivered past success and reconsider how value is captured, created and delivered through technology investment. New business competencies will be required to ensure your organization becomes more agile, collaborative, innovative and focused upon guest experience.
Business Capabilities represent the core of TeAM and provide the building blocks that consist of the People, Processes, Tools, Knowledge and Culture. TeAM is designed to ensure that your business avoids the problematic pitfalls of change including complex industry influences, increased and unpredictable competitive pressures, and the unstoppable and accelerating pace of technological advance.
TeAM utilizes agile business modeling to underpin mutual and comprehensive understanding of your business priorities, challenges and desired business outcomes. Through TeAM, we build an Architecture Roadmap that improves your ability to recognize and react to current and future disruption. TeAM ensures optimal technology investments that provide sustainable value visible within your business.